Browse by Product Type
Therapeutic Ultrasound
In 1957 Mettler Electronics Corp. revolutionized the therapeutic ultrasound industry with the Sonicator®. Portable and lightweight, it was the first of its kind. Still today, the Sonicator is the standard in therapeutic ultrasound devices. All Sonicator devices feature detachable applicator cables, continuous and pulsed modes, built-in applicator cradles and a two-year limited warranty, one-year on applicators and cable.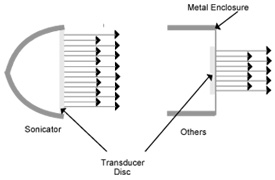 Direct Crystal-to-Patient
All Sonicator ultrasound applicators feature unique crystal-to-patient technology that delivers ultrasound directly to the patient without a metal interface as well as watertight characteristics for underwater therapy.
Universal Applicator Cable
Ultrasound applicators can be changed quickly and easily using Mettler's unique universal applicator cable. Instead of having multiple attached cables, there is only one. The cable can be changed out if damaged without needing to send the entire applicator assembly in for repair, saving time and money.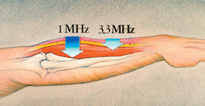 Depth of Penetration
Arrows indicate the relative depth of ultrasound penetration between 1 MHz and 3.3 MHz frequencies.

Revolutionary New Hand-Held Ultrasound Mettler Electronics' newest therapeutic ultrasound is the Sonicator® 718.

The Sonicator 740 is 1 and 3 MHz therapeutic ultrasound unit that comes with a 5 cm_ dual frequency applicator. It is light-weight and portable and features a universal applicator cable to make changing applicators quick and easy.

The Sonicator 740x has all the features of the Sonicator 740 but comes standard with all three available applicators—a 5 cm2 dual frequency applicator, a 10 cm2 / 1 MHz applicator and a 1 cm2 / 3.3 MHz applicator. All three applicators can be stored on the unit itself to keep them available at all times.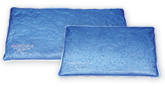 Changing the quality of hot and cold therapy packs. TS gel uses a double wall construction that allows for stronger wear and tear.
Read more…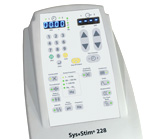 The Sys*Stim® 228 neuromuscular stimulator has four discrete waveforms: Interferential, Premodulated, Medium Frequency (Russian) and Biphasic waveforms.
Read more…