Browse by Product Type
News
Check out the latest and greatest in news from Mettler Electronics Corp.
We are pleased to announce a new distribution partnership with PlanMed Company in Egypt. PlanMed will oversee of distribution of…
To report the progress and treatment of a patient with a severe laceration to his thumb and loss of joint movement. His beginning pain was an 8 on a numerical rating scale, where 0 is
While many are familiar with the importance of Nitric Oxide in the human body, ranging from increasing one's immune system as well as it's anti-inflammatory response, not many are familiar with the increase of Nitric Oxide and
Two decades of advocacy come to successful fruition, as a 2-year funding deal recently signed into law includes a full repeal of the cap on Medicare outpatient occupational therapy, physical therapy, and speech-language pathology services.
The TENS*STIM 211 is an OTC* TENS and EMS device. The 211 is a two channel battery operated unit that offers both TENS and EMS for home use…
Exercise Balls from SISSEL® are great for healthy and active sitting, using in your workouts, and much more. Exercise balls are used every day in physiotherapy, in gyms, at home, at the office, and at school. By using your exercise ball as a seat, you relieve pressure on the spine while strengthening your core. Using […]
Healthy sleep is essential. If you do not get the necessary recovery, the consequences are serious: tension headaches, inner restlessness and physical as well as mental loss of power. With the original Swedish SISSEL® Orthopedic Pillows, your sleep will be quiet and relaxed again. All neck pillows feature substantial support to the lower cervical spinal […]
Sitting for long periods of time places your body at risk for back and neck alignment issues as well as posture problems down the line. Many of us know that sitting is not the healthiest way to spend the majority of our day. Studies around the world have even shown that we sit for an […]
On behalf of Mettler Electronics we would like to thank all of you for taking the time to stop by the Mettler booth at the Combined Sections Meeting in Indianapolis this year! We also want to thank you for registering for a chance to win a Trio Stim hand held muscle stimulation device. We have […]
Mettler is proud to introduce the new Active Passive Trainer and APT Plus to our product line. The APT allows the clinician to completely control speed, resistance, number of rotations and…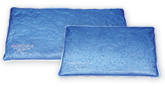 Changing the quality of hot and cold therapy packs. TS gel uses a double wall construction that allows for stronger wear and tear.
Read more…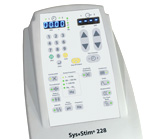 The Sys*Stim® 228 neuromuscular stimulator has four discrete waveforms: Interferential, Premodulated, Medium Frequency (Russian) and Biphasic waveforms.
Read more…