Sys*Stim 228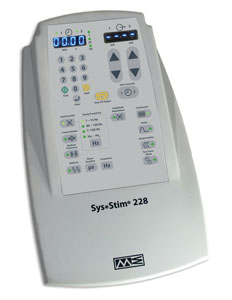 The Sys*Stim® 228 neuromuscular stimulator has four discrete waveforms: Interferential, Premodulated, Medium Frequency (Russian) and Biphasic waveforms. In addition the clinician can set on/off times, pulse width and frequency along with frequency modulation for some of the waveforms.
A carrying bag made especially for the Sys*Stim 228 and its accessories is available as well as a treatment cart that also will hold the Sonicator® 740.
Weight: 4.9 pounds (2.2 kg.)
Dimensions: 12.0 in (L) x 8 in (W) x 7.4 in (H), (32.8 cm (L) x 20.3 cm (W) x 18.8 cm (H))
Warranty: 2 years

Spec Sheet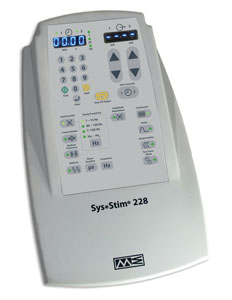 Mettler Electronics Corp. is pleased to introduce the new Sys*Stim® 228 neuromuscular stimulator featuring four discrete waveforms designed to facilitate clinical versatility. The Sys*Stim 228 provides the flexibility to meet virtually any clinical need and has unprecedented ease of operation. Clinicians can choose from a broad range of waveforms, including Interferential, Pre-modulation, Medium Frequency (Russian Stim) and Biphasic with adjustable phase duration and frequency. Additional versatility is provided by a selection of treatment modes that include Surge, Reciprocation, Surge with Reciprocation and Vector Rotation.
The Sys*Stim 228 can be set up in the two-timer mode so two separate treatment protocols or two separate patients may be treated simultaneously.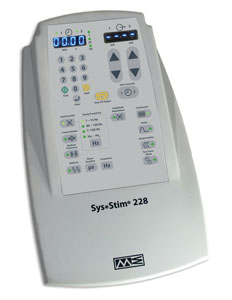 Q: Can I easily carry the 228 for home therapy or travel?
A: Yes. The 228 was designed to be truly portable. Weighing only 4.8 pounds, it is extremely portable. There is also a handle built into the unit for ease of carrying.
Q: Is the 228 a good unit for pain management?
A: Yes. The 228 was designed primarily for pain management offering both the IFC and the Premod waveforms. However, it is capable of doing much more than just pain management.
Q: Is the 228 a good unit for functional rehab?
A: Yes. The 228 offers both Medium Frequency (Russian Stim) and a biphasic waveform. Both of these waveforms will allow you to treat any of your rehab needs.
Q: Can I treat more than one patient with the 228?
A: Yes. With two independent timers, the 228 allows you to treat two patients or two body areas at the same time, while having separate control of each channel.
Q: What kind of electrodes will work best with the 228?
A: The higher the quality of the electrode, the better the treatment. We recommend using either Mettler EZ Trodes or Mettler V Trodes.
Q: Can I plug my 228 into my Mettler ultrasound?
A: Yes. Your 228 came with pin to banana adapter that will allow you to run stimulation from the Sys*Stim 228 through your Mettler ultrasound for combination therapy.