G5® GK3®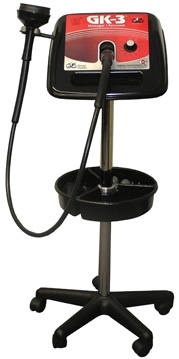 G5 massage machines have been sold and used successfully for over 50 years. They provide very deep penetrating massage using frequencies from 20 to 60 CPS. G5 massage machines are the only massagers with Directional Stroking®, not vibration. They are reliable, durable and quiet. Using G5 massage machines over a hot pack or cold pack seems to drive in the heat or cold. They can be equally-effective when used over toweling or clothing, and won't tangle in hair.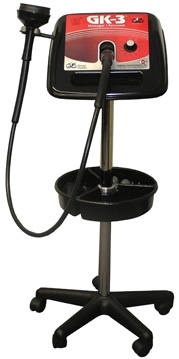 The G5 GK3 has high quality design for heavy and frequent use. It is a versatile apparatus and it is easy to start a treatment. The G5 GK3 is a quiet, powerful Directional Stroking percussion apparatus designed specifically as an adjunct for massage. The basic control panel has ranges from 20 to 60 CPS. It comes with caster-stand and tray, and also can be used as table top.
Item#: ME650
Motor: 1/17 horsepower, 24 volt DC
Input: 90 to 240 VAC, 50/60 Hz
Assembled Dimensions: 44″ x 21″ x 21″
Assembled Unit Weight: 25 Lbs.
Shipping Dimensions: 22″ x 21″ x 18″
Shipping Weight: 36 Lbs.
Applicator Package: PRO-PKG
Approvals: UL, TUY, CE, RoH5
Warranty: 1 year
Wall bracket and mounting hardware are sold separately.

Spec Sheet