Browse by Product Type
Shortwave Diathermy
Since 1968 Mettler Electronics has produced an affordable shortwave diathermy (SWD) unit that produces comforting deep heat in muscle tissues. Shortwave diathermy is used when the clinician needs to provide deep heat to a larger area than normally covered by ultrasound.
Auto*Therm® 390x combines the ME 390 with an arm, inductive coil applicator and heavy-duty cart with ample storage space.

Auto*Therm® 390 is a pulsed and continuous shortwave diathermy. Weighing only fifteen pounds, this unit can be easily carried between treatment rooms or to the patient.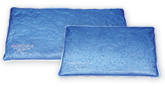 Changing the quality of hot and cold therapy packs. TS gel uses a double wall construction that allows for stronger wear and tear.
Read more…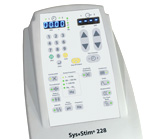 The Sys*Stim® 228 neuromuscular stimulator has four discrete waveforms: Interferential, Premodulated, Medium Frequency (Russian) and Biphasic waveforms.
Read more…